Illinois REALTOR® Magazine [1] | October 2012
REALTORS® Vote!
The General Election is Nov. 6. Get out and support pro-REALTOR® candidates. Here are the key election deadlines to keep in mind:
October 9
Last day to register to vote in Illinois
October 10 - November 3
Grace period registration - in office of local election authority
October 22 - November 3
Early voting period
November 1
Last day for local election authority to receive absentee ballot application by mail
November 5
Last day to vote absentee in person at the local election authority General Election
Have a question about voting in Illinois?
You'll find answers at the Illinois State Board of Elections' website, www.elections.il.gov [2], including information on registering to vote, finding your local polling place, absentee voting requirements and more.
---
U.S. Economic Stats on the Go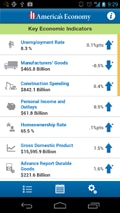 Now you can access real-time updates on key economic indicators that can affect your business from the current homeownership rate and new residential construction statistics to unemployment trends on the new mobile app, America's Economy.
Released by the U.S. Census Bureau [3], the free app tracks 16 economic indicators including: manufacturing, international trade, retail sales, and residential construction and sales compiled by the U.S. Census Bureau, Bureau of Labor Statistics, and Bureau of Economic Analysis.
The app is available for Apple and Android smartphones and tablets.
---
2.8 Years
Rent vs. Buy Break Even Point
For those in the rent-versus-buy quandary, Zillow's calculations [4] show that buying pays off over renting after just three years in some of the nation's markets. The so-called break-even point in the Chicago area is 2.8 years, according to the study.
---
Home Remodeling Rebound
More homeowners are tackling improvement projects. The latest Leading Indicator of Remodeling Activity [5] forecasts that annual homeowner improvement spending is rising and could reach double-digit growth by the first quarter of 2013, according to the Joint Center for Housing Studies of Harvard University.
---
Dec. 31 is the deadline to complete your Ethics training
Changes to the Code of Ethics took effect this year to help ensure it remains up-to-date as practitioners confront new situations. Here are four highlighted by REALTOR® Magazine [6]:
Authorized use of property. The duty of fidelity to clients' interests was advanced through a new Standard of Practice interpreting Article 1 as prohibiting members from accessing or using, or permitting others to access or use, listed or managed property on terms or conditions other than those authorized by the owner or seller.
False statements against others. Article 15's obligation to refrain from knowingly or recklessly making false or misleading statements was expanded to cover "other real estate professionals, their businesses, and their business practices." These changes are also reflected in Standards of Practice 15-2 and 15-3.
Mediating disputes. The dispute resolution scope of Article 17 was enhanced to include the duty to mediate otherwise-arbitrable disputes in cases where the association of REALTORS® has established a duty to mediate.
Waiving mediation and arbitration. Standard of Practice 17-2 (which interprets and explains Article 17) was amended to make it clear that REALTORS® are not obligated to mediate or arbitrate in cases where all parties to the dispute choose not to have it mediated or arbitrated through the association.
All REALTOR® members must successfully complete a 2.5-hour course in ethics, within given four-year cycles, and continue to update their education in successive four-year periods thereafter. The current cycle ends Dec. 31, 2012. Ethics courses may be available through your local board. Contact your local association [7] for details. REALTORS® can also complete the training online with a free course, courtesy of NAR. Go to REALTOR.org/COETraining [8].
---
-$65,000
The difference between the $150,000 that the typical For-Sale-By-Owner home sold for compared to the $215,000 among agent-assisted home sales.
Source: NAR 2011 Profile of Home Buyers and Sellers [9]
---
Clarification to Advertising Rules
The advertising requirement that the managing broker be listed in all advertisements does NOT apply to real estate "for sale" or other similar signs, under legislation signed into law by Gov. Pat Quinn in August making technical and administrative changes to the Illinois Real Estate License Act of 2000. Learn more. [10]